Application for fresh LUT
---

Siva Sunder
watch_later
3 months, 1 week ago
Please advise if a copy of the online LUT application has to be submitted in the jurisdictional office after online submission of the LUT is made. I was informed by my consultant that a physical copy is to be submitted after making an online application. But in your portal you have mentioned that no such physical submission is necessary and also no formal approval letter will be received from the jurisdictional officer. What is the reference number to be mentioned in the invoices once the export invoicing begins? Please clarify.
---
Comments:
---
2 Answers
---

Siva Sunder
watch_later
3 months ago
arrow_drop_up
0
arrow_drop_down
Thank you very much for your reply please. Appreciate the same.
---
Comments:
---
---

Pulkit Sharma
watch_later
3 months, 1 week ago
arrow_drop_up
0
arrow_drop_down
As per circular number 40/14/2018-GST dtd 06.04.2018, you are not required to submit any document to jurisdictional officer.
Attaching Twitter confirmation for your reference. You can read circular for official confirmation.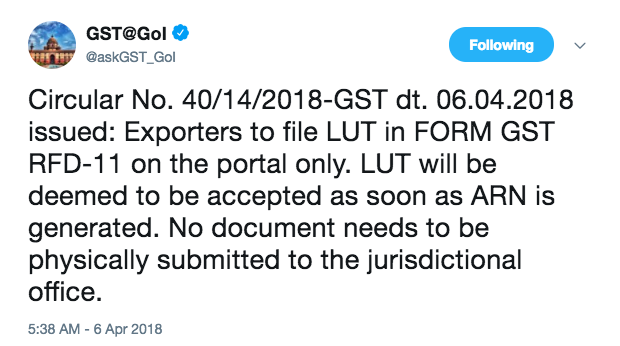 ---
Comments:
---
You need to be logged in to answer.
Top Members
Related Questions
Related Articles
BUY DSC FOR MCA, IT AND GST
Experience KnowyourGST services. Apply for DSC and get it on same day. We promise fastest delivery of your DSC.
Whatsapp - 73386 33003
Telegram - @knowyourgst
Contact us on Whatsapp and Telegram number 7338633003 for quick reply.