GST Login closed temporary login not allowed
The last date to enroll or migrate under GST was 30th April 2017. The GST portal has message that login for existing as well as new registration is closed with effect from 1st May 2017 and will reopen after some period.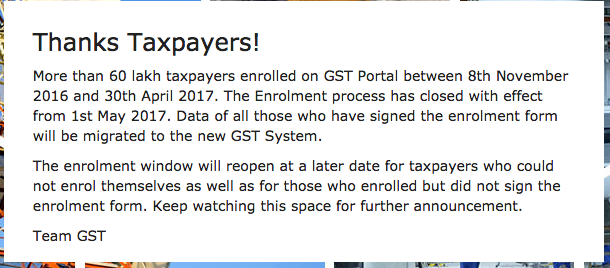 As a result those who have already registered on GST portal cannot login to the system, even the migration for those who could not enroll is closed.
We have to wait for some time till the registration window is opened again.
It is to be noted that more than 60 lakhs tax payers have registered on portal till date. The number looks impressive but still many people have not migrated.
Few states such as Karnataka has topped the list of tax payers registered on portal.
Many taxpayers who registered but could not take the screenshot of their application or could not download the application are now able to login to their GST data.
Tax payers are required to submit their GST details to their suppliers for claiming input credit (companies are collecting GST details in advance).
---

---
---
2 Comments
Pulkit Sharma
The login is closed for time being and no one is able to login to GST portal. Government is processing the data of those tax payers who have already migrated.
May be government servers are being tested for the huge volume it has to handle once GST is fully implemented.
Pulkit Sharma
Update: GST migration window will open from June for 15 days. Those who could not migrate can now migrate. Around 60 lakh existing tax payers have migrated, remaining have the opportunity to migrate from June 1.
You need to be logged in to comment.
Top Members
Never File Wrong GSTR-1
Check your GST numbers in bulk. Check unlimited GST numbers with very cheap packages.
Used by