GSTR 3B - Save GSTR 3B error for July 2017 return
GSTR 3B - Save GSTR 3B error for July 2017 return
Some dealers are complaining that they are experiencing an error message while clicking the button SAVE GSTR 3B.
This issue can be solved by following methods
First go the INTEREST AND LATE FEE Tab of GSTR 3B
Enter the values '0' (zero), in the blank columns of 'INTEREST ' row.
Click ' Confirm'
Then SAVE GSTR 3b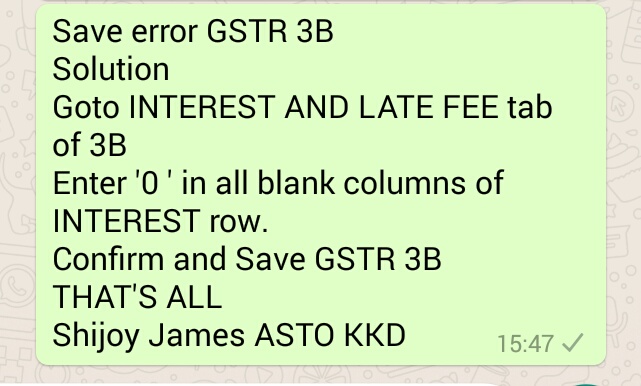 Read more about form GSTR-3B and download excel demo file.
---
---
1 Comment
Prakash Ahir
In case of export of goods what amount to be paid as gst
1. Amount mention as igst paid in shipping bill
2. Amount in$*exchange rate *gst rate of purchasing goods
Thanks
You need to be logged in to comment.