GST on online advertisements and impact on website publishers and bloggers
Last udpated: Nov. 4, 2017, 9:12 p.m.
Every website publisher or a blogger makes money online through advertisements or selling E-books or through affiliate marketing.
Goods and services tax or GST has specifically and separately made provisions for E-commerce industry. GST has made compulsory registration for E-commerce operators and online sellers selling goods on these platforms.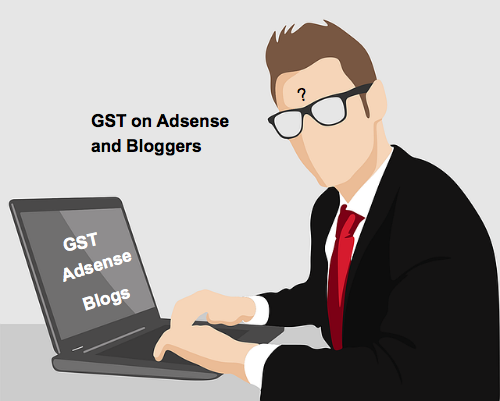 As a blogger or website publisher, you make most of revenue from following activities:
By displaying online advertisements of client pitched directly or through 3rd parties such as Google adsense and other ad-networks.
By selling E-books directly or by listing them on online portals such as Amazon, Flipkart etc.
By affiliate marketing, and
By sponsored posts or native advertisement.
In this article we will try to address the following questions:
Whether registration under GST is compulsory for online advertisers or for bloggers selling space on their websites?
Whether bloggers displaying ads of third parties through ad-networks such as Google-Adsense have to pay tax under GST?
How GST will impact revenue of bloggers and other website publishers?
Before going to further reading, let us understand the few terms defined under the act that might cover your online business.
Under CGST Act, 2017 and IGST Act, 2017 following 2 terms are defined which covers almost all services provided through internet.
(110) "telecommunication service" means service of any description (including electronic mail, voice mail, data services, audio text services, video text services, radio paging and cellular mobile telephone services) which is made available to users by means of any transmission or reception of signs, signals, writing, images and sounds or intelligence of any nature, by wire, radio, visual or other electromagnetic means;
(17) "online information and database access or retrieval services" means services whose delivery is mediated by information technology over the internet or an electronic network and the nature of which renders their supply essentially automated and involving minimal human intervention and impossible to ensure in the absence of information technology and includes electronic services such as,––
advertising on the internet;
providing cloud services;
provision of e-books, movie, music, software and other intangibles through telecommunication networks or internet;
providing data or information, retrievable or otherwise, to any person in electronic form through a computer network;
online supplies of digital content (movies, television shows, music and the like);
digital data storage; and
online gaming;
(44) "electronic commerce" means the supply of goods or services or both, including digital products over digital or electronic network;
(45) "electronic commerce operator" means any person who owns, operates or manages digital or electronic facility or platform for electronic commerce;
GST registration for bloggers and website publishers
First point that should be noted is an online seller, selling goods or services through E-commerce operators is required to obtain registration under GST. As a blogger or web-publisher if you are selling any of your product or services through portals such as Amazon, Flipkart etc. then you need to obtain GST registration.
Suppose you are selling E-books through Amazon, then you have to obtain GST registration and file your returns and pay taxes.
Second, if your read the above definition of E-commerce, it cover selling/supply of goods or services through electronic network. This definition again covers every blogger or web-publishers since they provide their service through electronic networks.
Again, E-commerce operator definition also apply to bloggers since they manage their own website.
Basically the definition of E-commerce operator and E-commerce are wide enough to cover everyone who transacts online or operates a website.
At first glance it seems that every blogger or web-publisher needs to register under GST.
You must note that every E-commerce operator or online seller needs to compulsory register under GST. As online information and database access or retrieval services falls under the definition of E-commerce and you operate your website, you have to obtain registration under GST.
Returns and compliance applicable to bloggers and web-publishers under GST
If you have registered under GST, you now must have doubts on different returns or information to be filed every month.
Normally registered person under GST needs to file information of outward supplies/sales, details of inward supplies/purchase, monthly/quarterly returns, annual statement along with audit report (if applicable).
You can read returns to be file under GST for more details on returns and information you must file regardless of your revenue.
Whether GST needs to be paid on direct advertisements, affiliate income and selling of E-books?
Yes, you need to pay GST on advertisement displayed on your website, affiliate income and revenue earned by selling of E-books or other income generating activities.
There is no specific exemption available to bloggers or web-publishers for providing these services. More importantly definition of E-commerce includes every activity performed online.
Blogging is not going to be fun game anymore as far as taxation is concerned. Due to non applicability of minimum limit of Rs. 20 lakhs to E-commerce operators and online sellers, every new blogger or web-publisher must obtain registration to start his venture.
As on the date of writing this article, no specific exemption is available to small E-commerce operators.
Should you pay GST on your income generated from Ad-networks such as Google Adsense, Media.net, buysellads or infolinks income?
Adsense is the favorite ad-network for any publisher. However there are many other ad-networks that bloggers and website publisher use to monetize their properties.
Basically the income generated through these ad-networks is received in foreign currency and are export in nature. However it may be still debatable unless we have some clarification or in future any case law to settle this forever.
Any export or import of services or goods falls under Interstate supplies.
Section 16 of IGST Act, 2017 provides the list of zero rated supplies.
As per section 16(1) "zero rated supply" means any of the following supplies of goods or services or both, namely:––

(a) export of goods or services or both; or .........
This section classifies export of services and goods both under zero rated supply.
So, it seems at this point of time you need not to pay tax on income received from adsense or any other ad-network.
However unless it is specifically specified or settled by a case law, one has to be ready to prove that income from adsense or any other ad-network is export in nature.
Further export of services means the supply of any service when,––
the supplier of service is located in India;
the recipient of service is located outside India;
the place of supply of service is outside India;
the payment for such service has been received by the supplier of service in convertible foreign exchange; and
the supplier of service and the recipient of service are not merely establishments of a distinct person in accordance with Explanation 1 in section 8;
Analysing the definition of export of services, a blogger or publisher earning from ad-networks already satisfy all the conditions. Though in my opinion these services falls under the category of exports and these services will be zero rated supplies.