GST Invoice format in Excel and PDF
Last udpated: Nov. 4, 2017, 9:12 p.m.
The government notified rules for a tax invoice. A tax invoice issued by a registered person should contain details as required.
I have drafted an invoice in MS Excel and PDF format, which you can use for reference purpose. Alternatively, you can use online invoicing software for GST.
Download GST tax invoice format in excel or PDF
I have prepared a draft invoice in excel format. You can download this excel file and change the format or designing as per your requirements.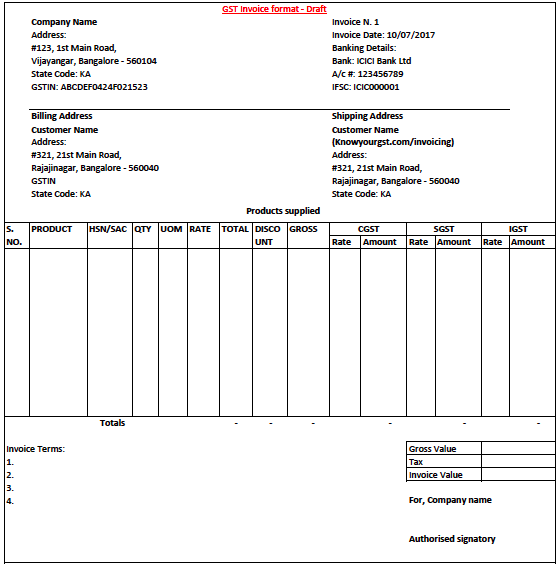 Free GST Billing software
Here is a video about KYG-Invoicing to explain you instead of Excel format you can use a free to use billing software created by me. It is being used by more than 6,000 users and they are happy.
It is free for life time.
Analysis of Invoice rules issued by government
Details of seller/supplier
Invoice details
Invoice number should be continuous containing alphabets or numerals or special characters, invoice number should be unique for a financial year
Date of invoice
Details of buyer/recipient if registered under GST
Name
Address
GSTIN or UIN
Place of supply along with state code if interstate sale
Details of buyer/recipient if not registered under GST and value of taxable supply is 50,000 or more
Name
Address of the recipient and the address of delivery
Name of State and its code
Details of products to be provided in invoice
Product description
HSN code of goods or Accounting Code of services
Quantity and unit of measurement
Total value
Taxable value
Rate of tax for CGST, SGST, or IGST
Amount of tax for CGST, SGST, or IGST
Invoice should be signed either digitally by a DSC (Digital signature certificate) or hand signature by the supplier or his authorised representative.
These are the basic details that an invoice should contain, export invoice, reverse charging invoices should contain the fact on invoice.
How many copies of the invoice should be prepared?
If invoice is for supply of goods, then 3 copies should be printed.
Original copy for Recipient/buyer
Duplicate copy for Transporter and
Triplicate copy for Supplier/seller
In case of service 2 copies should be prepared,
Original copy for recipient
Duplicate copy for supplier