Search HSN code and HS description of a product with explanation
Last udpated: Nov. 4, 2017, 9:12 p.m.
HSN Code
HS Description
GST - Tax Rate
Result
HSN or HS Code or Harmonized System (HS) is an effort to classify traded products into a common international standard.
You can use above form to check the HS Code or Description by typing product description or HSN.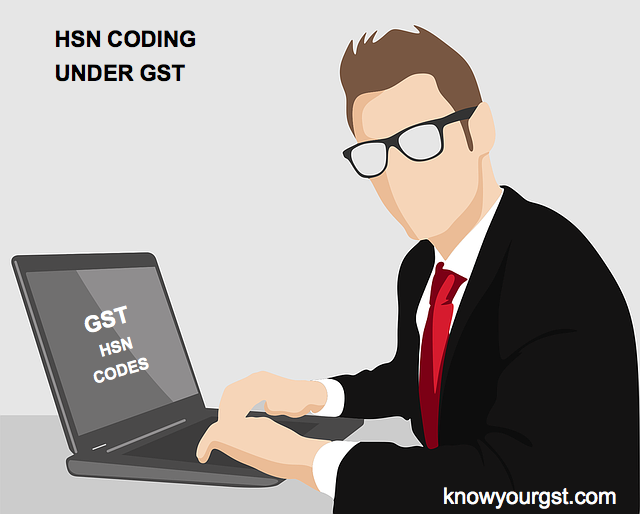 What is HS Code and what is HSN under GST?
HS Code is a standard code given to a particular nature of commodity to identify it among international trade. For example, each product or nature of product is grouped under one code or category, every nation by looking at HS Code can easily get know the nature of product.
In a world where many languages exist, every country has its own terms for traded products, HS coding was required to identify products by each country with a common code.
Harmonized Commodity Description and Coding System is currently maintained by World Customs Organisation.
In India this system is adopted and being used in Customs and now under GST. Using Harmonized Commodity Description and Coding System for classifying commodities or products under GST will remove the confusion of classifications for Indian as well as international tax payers.
How many digits form a HS Code or HSN?
WCO has listed the 6 digit code for products, however every member country can add additional digits for their further use, but first 6 digits should not be changed.
As per the codes from WCO, HS code consists of 6-digits. The first two digits designate the HS Chapter. The second two digits designate the HS heading. The third two digits designate the HS subheading.
You must have noticed that many items contain 8 or 10 digits when you selected a product while registering for GST. This is because India has added extra digits to the existing 6 digits to further use these numbers for its internal purpose.
How to check an imported product with product list under GST?
If you have imported some products from China and want to classify them under GST, you should copy the first 6 digits of product imported from China and match with first 6 digits of products listed under GST.
It does not matter what is the length of HS Code of products imported or exported, first 6 digits will be same for same product worldwide (member countries).
How to check HS Code or description for a product?
You can use the form provided in starting of this article to check the description of product by providing HS Code or alternatively you can search HS Code by providing description of product.
You can also download list of HS Codes under GST in excel format.
If you have any doubts on HSN codes or classifying your product, you can use this website to ask question with tag GST-HSN and experts will help you.