Gstr-9 And Gstr-9c Due Date Extended
Reported under
GST
on 26/08/2019
Update: We informed you in morning itself. Date has been extended. Read our news below and here are latest updates.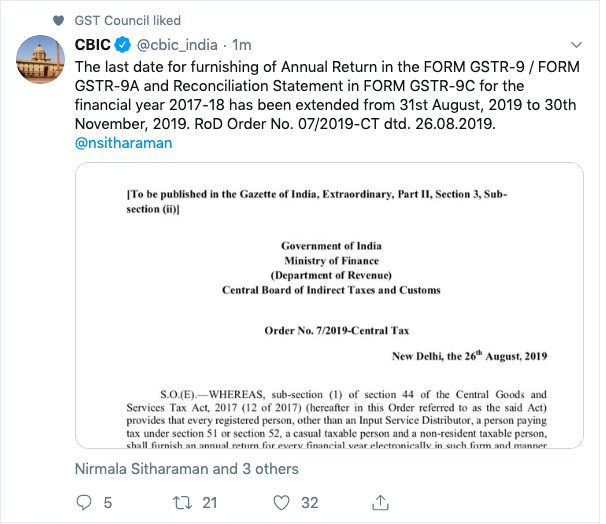 Here is notification for GSTR9 annual return extension.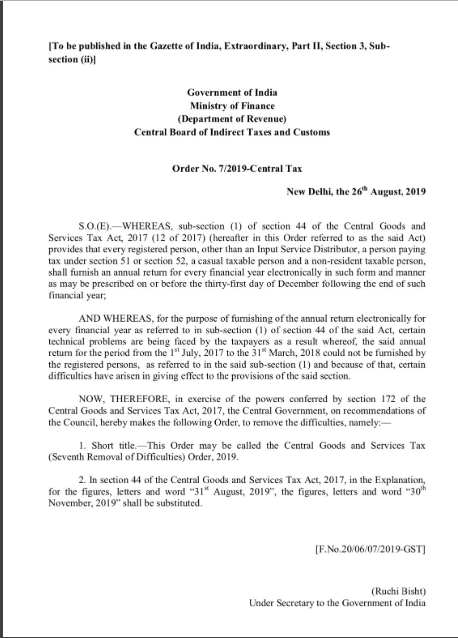 It is expected that due date of filing Annual Returns in form GSTR9 and GSTR9C will be extended. Tax payers and consultants are struggling to file annual returns and various associations have represented to government for extension of due dates.
In my personal opinion annual returns for financial year 2017-18 should be scrapped totally. Reasons behind this opinion are:
It was first year of GST implementation and even government machinery was not ready, forms were introduced after a long time of year end. Software were not designed for such reporting.
GST Law specified 3 returns. GST-1, GSTR-2 and GSTR-3, however in reality GSTR-3 or GSTR-2 were never implemented fully and GSTR-3B was introduced. If government itself cannot introduce forms properly, how taxpayers can design their book keeping practices.
GSTR-9C is very complicated and is only a formality, it will not give any revenue to government.
There are many other reasons to believe that date should be extended. Further filing data is very disappointing. Not even 25% GSTR-9C are filed till date.
As per our sources and confirmed by GSTSathi (follow him for latest GST updates), due date of annual returns will be extended and notification may be issued tomorrow (27/08/2019).