How to avoid frauds in online shopping?
Last udpated: May 10, 2018, 9:13 a.m.
KnowyourGST was launched by me in 2017 to provide free information and help on GST laws, which was launched in July 2017.
Within a short time, KnowyourGST became one of the top website of India. Website received more than 5 lakh visitors each month in initial stage of GST launch.
Along with content, Billing software was also launched. Billing software was coded for my personal purpose, I used it to generate bills for my clients. However, later it was launched for public.
Everything on website was for free. Billing software is free and can be used by any business owner for free. I do not intend to charge any money for information, acts, and billing software.
However, to run a big software lot of expenses are to be incurred. To run KnowyourGST website, monthly expenses such as Hosting charges, SSL certification charges (to keep your information secured), consultancy charges, domain renewal charges are incurred.
Advertisements are displayed on KnowyourGST, but income from advertisement is not enough to maintain expense-revenue ratio.
To further generate revenue to keep KnowyourGST live, I launched few selected services, which can be booked online.
The purpose of launching KnowyourGST services was to generate enough revenue to keep KnowyourGST live.
You can book following services with KnowyourGST:
GST registration
Project Report
GST returns
Consultancy
However, what I witnessed was that people are coming on site and giving their email id and mobile number but abandon at the time of making payment.
People need these services but are not completing order for various reasons. One of the main reason being Indian still hesitate to order services online.
Indians are still not comfortable ordering services online, and they are right because there are many websites who are engaged in fraud activities.
However, you can avoid these frauds with little caution and common sense.
How to check whether a website is fraud?
You should check whether a website is a brand or a newly launched to lure people with big claims.
Many people who do frauds change their website every 3-4 months. For example, people once cheated by a website will never visit that website again, so fraudsters change website every quarter.
To check whether a website is running from a long time or not, visit to similarweb and check traffic of website.
For example, I have installed Similar web addon in my browser and this is the estimated traffic of KnowyourGST.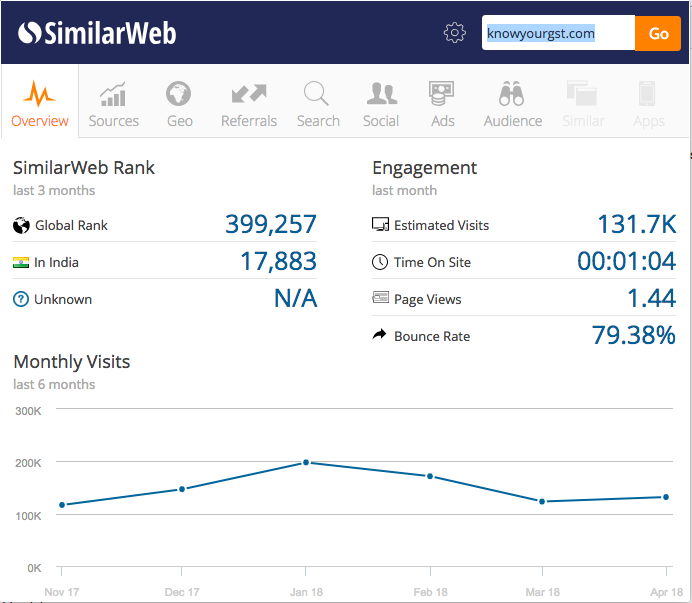 You can see that KnowyourGST is receiving good traffic and has become a brand.
Before you make any purchase online, you should check whether a website is receiving good traffic.
KnowyourGST has become a big brand and lot of people are availing our services without any hesitation.
How to check whether a website is safe and secure, and you data is not compromised?
First thing you should check is whether a website has a SSL certificate or not.
For example, on this website look at your browser address bar, you will see green words as Secure or https. You should look at address bar and provide your personal information or banking information only if website has secure or https. Secure or HTTPS is displayed when a site has installed a SSL certificate.

If SSL certificate is installed then your information will travel in encrypted form from your browser to server where website is hosted. So no one can hack your information on the transmission channel.
For example, if you remember old days, when any one could cut a wire of telephone wire and connect telephone device to it. Similarly anyone can check information by getting access to your internet connection or internet flow channel.
But SSL encrypts data and even if someone has access to it, it cannot be decrypted and it becomes useless for hackers.
Second, you should check whether a website is sharing your information with others. Most of websites trade with your data to sell advertising space.
KnowyourGST never share your data with anyone. We display Google advertisements on website and Google displays ads based on content of website. We never share any data with Google or any other company. Your data is always yours and no one else can have access to your billing data.
Small steps to avoid frauds online
Other than above steps you should also take some small steps to insure that you are never cheated by any online fraudster.
Never reveal your id and password to anyone.
Keep a strong password.
Do not reveal OTP to anyone.
Do not respond a mail from unverified email ids.
Do not download software from unverified source. Do not open any file received in your mail from unverified source.
Do not give your banking details such as user id, password or card details if website does not have SSL certificate installed.
Do research before making any payment online.
Check background of website owner before any transaction.
Don't click unreliable link.
Always give correct mobile number to you bank for receiving message whenever any transaction take place.
Do not believe in any email promising lottery win, fund transfer or investment received from some prince, businessman or foreign person. Most of these are to cheat you.
Conclusion
Being safe is your right. You should never be cheated by anyone. However there are lot of frauds that take place online. With a little common sense and research you can always avoid frauds.
Always take care and time to do a little bit research.
Place orders only if you trust a website or owner of website.
Check ratings given by other users and go through all sections of a website before placing an order. Check that all pages on websites are updated. Most of the time, fraud websites do not update all pages and you will find few pages unchanged.
If you ever faced any issue or fraud online, you can share your experience so that others can learn from it.