Become a super hero - Help people understand complex tax laws
Last udpated: Jan. 9, 2018, 12:37 p.m.
Do you know people hardly ask anyone on phone or personally their doubts, instead they search on internet.
If you are not on internet then you will be missing lot of opportunities.
Whether you are applying for a job or starting your own profession, creating an online identity to showcase your knowledge is must. Employers now days prefer to check background of candidates based on their online presence.
I have written many articles on Indian tax laws, accounting, investment and other general topics.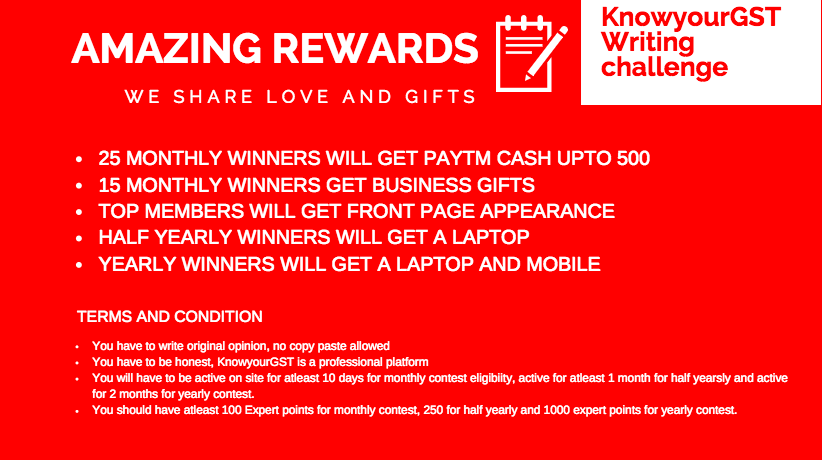 When I started practice, my only source of getting clients was my online presence. I have written articles on GST on Knowyourgst. People know me because of my articles. I have created a space for myself on internet.
I have been writing online on various platform from my articleship days. Writing made me mature.
KowyourGST has become one of the top website for tax solutions in India.
As of now I write articles and help users on their queries. However I feel that more people should engage in sharing their knowledge.
It is time that you develop a good habit of writing and sharing your knowledge.
The more you write, the more presence you will have. The more presence you have, more clients or job offers you will get.
I laugh when I read my earlier articles, I was not good at writing. But as said practice makes one perfect. I improved day by day, you will improve day by day.
It is now or never opportunity for you.
You should start writing right now.
To encourage people like you, here I present a challenge. Participate in this challenge and win prizes. More than prices you will create an amazing presence on internet.
KnowyourGST is already an established website, you do not have to worry about marketing your content. You need to concentrate only on sharing your knowledge by writing articles, answering questions or analysing acts.
How to join KnowyourGST writing challenge?
To join the challenge, you have to login to your KnowyourGST account.
If you are not already registered on sign, you need to first sign up using your email id or you can directly login with your Gmail, facebook or twitter account.
Once you have logged in, you are a participant.
You have to earn points, you can earn points by:
Asking great questions
Answering questions
Writing articles
Analysing Acts
Upvoting your favorite answers or downvoting not suitable answers
How many categories for writing hero?
You can become a HERO by sharing your knowledge. You will be HERO for your readers, people who get benefited by your knowledge.

You can become a Question Hero by asking top quality questions.
If you are a student or professional with doubts, hit the Ask a Question link. You can be anonymous if you do not want to show your name.
Asking better question will ensure that we cover almost all questions on all categories.
You will be eligible to become a QUESTION HERO if you follow following guidelines:
Question should have proper title
Description should be detailed and not just few line
Select a proper category for your Question
Should have minimum 100 expert points and 100 reputation points for a month.
Wish you luck and lot of knowledge.

If you are good at answering queries, use this talent.
Answer the questions on KnowyourGST and increase your score and chance to become an ANSWER HERO.
You can become an ANSWER HERO by:
Answering questions in detail, remember users can downvote if answer is not helpful.
Upvoting useful answers or downvoting inappropriate answers
Earn minimum 200 expert points and 100 participation points

Expert hero is the second highest position at KnowyourGST.
Become an expert hero by writing articles.
Articles give you maximum expert points. If you are great at writing articles to guide users and help them on burning topics, use this talent to become an expert hero.
To become an expert hero:
Write articles on topics of your interest but covered under categories of KnowyourGST
Article should be minimum of 450 words
Article should have conclusion and your opinion on subject matter
Earn at least 250 expert points
I have done it and you can also do it.
Start writing for users.
You can participate in this challenge right now.
Pointing system on KnowyourGST
Asking a question - 2 Points
Answering a Question - 5 Points per answer + 5 for each upvote
Writing Article - 10 points per article
Commenting on Article - 2 points
Analysing Act - 10 Points per post
Winners of challenge will be listed at KnowyourGST and every month prizes will be distributed.
The challenge Starts right now and first month will considered from today to end of Feb 2018.
If you feel your friend writes better than you, bring him too and compete to improve.