Job portal for accounting and financial professionals
Last udpated: April 9, 2018, 8:30 a.m.
KnowyourGST was launched a year back to provide free information on to be launched GST law. However within a short span of time, we have become a strong community of monthly 2.5 lakh users.
With a mission to continuously update our services and help users, a new job portal is launched to connect employees and employers.
We have launched this job portal to help financial professionals find jobs.
Employers will have a separate dashboard to shortlist candidates and interview.
How to apply for job?
To apply for a job, you first need to create an account on KnowyourGST.
Once your account is created and should be logged in. To create your resume application, click on this link.
You need to provide correct details in forms. After you have filled the form, our editorial team will scrutinize your resume and publish it for employers scrutiny.
For any job opportunity, you will receive on email provided in application form.
Screenshot of job application is given below: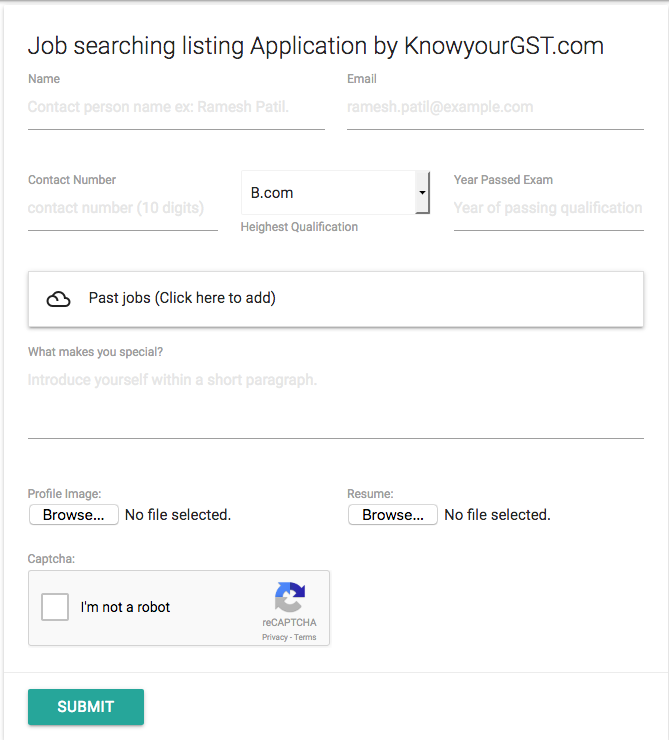 Please note that to get full benefits of this facility, make sure that you provide complete and correct details.
Fill What makes you special box with crisp and accurate information. This will be the first thing employers will read about you.
Your all information is secured with us and only employers can check it.
Go to Job portal for accounting and financial professionals
How to post a job requirement by employers?
If you are looking for candidates. You can post a job requirement online. Candidates will be able to apply for your job.
There are 2 types of job posting, one is free where employer has to post the requirement. In second case employers can hire KnowyourGST to handle job posting on their behalf.
First option is free and second option is a paid service.
To list your job, click on I AM EMPLOYER button on homepage of job portal.
Following form will open: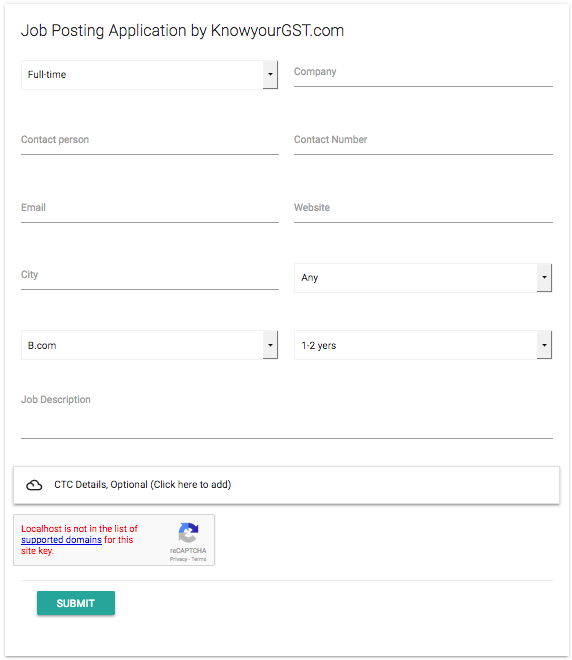 Fill the form and submit.
Candidates can apply online.
Once you have posted your job, you will be able to check all your postings with details of candidates on homepage itself.