Incorporation of Limited Liability Partnership (LLP)
Last udpated: Jan. 8, 2019, 1:19 p.m.
A limited liability partnership (LLP) is a partnership in which some or all partners (depending on the jurisdiction) have limited liabilities. It therefore can exhibit elements of partnerships and corporations. In an LLP, each partner is not responsible or liable for another partner's misconduct or negligence. This is an important difference from the traditional partnership , in which each partner has joint and several liability. In an LLP, some or all partners have a form of limited liability similar to that of the shareholders of a corporation. Unlike corporate shareholders, the partners have the right to manage the business directly.
A LLP is a new form of legal business entity with limited liability. It is an alternative corporate business vehicle that not only gives the benefits of limited liability at low compliance cost but allows its partners the flexibility of organising their internal structure as a traditional partnership. The LLP is a separate legal entity and, while the LLP itself will be liable for the full extent of its assets, the liability of the partners will be limited.
Since LLP contains elements of both 'a corporate structure' as well as 'a partnership firm structure' LLP is called a hybrid between a company and a partnership.
Incorporation Process
Step one: Deciding Partners and Designated Partners
LLP should have minimum two Designated Partners, one of whom shall be resident in India. The members of LLP can be individuals or body corporate through nominees.
Step Two : Obtaining DPIN and Digital Signature Certificates (DSC)
A person can be appointed as designated partner only if he has been alloted Designated Partner Identification Number (DPIN). DPIN can be obtained by filling the form 'FiLLiP', mentioned in step five. No separate application is to be made for this purpose.
For formation of LLP, forms must be submitted to registrar electronically, which must be digitally signed. It is prerequisite to obtain Digital Signature for formation of LLP.
Step Three : Checking the availability of Name
Name of the LLP can not be similar to existing LLP, Company or Firm. To check whether name of the LLP to be incorporated is available or not, visit www.mca.gov.in. Under MCA Services ---->LLP Services, click on 'Check LLP name'.
In the next window enter name with which LLP is to be registered, activity type, and hit search. In search list if other entities exist with same name, then LLP can not be registered with that name. Choose name which is unique.
Step Four : Reservation of LLP name
After you have chosen the name of the LLP, you should then make an application to registrar for to reserve the name, using 'RUN-LLP' service under MCA Services --->LLP Services on www.mca.gov.in
Once a name is approved, the applicant can apply for incorporation of the LLP by filing LLP Integrated Incorporation form (FiLLiP), before expiry of the validity of approved name i.e. 3 months from the date of approval.
If you are confident that name is unique and it will be approved by registrar, you can skip this step, and apply for reservation in next step.
Step Five : Fill and file form 'LLP Integrated Incorporation form (FiLLiP)'
FiLLiP deals with the single application for reservation of name, incorporation of a new LLP and/or application for allotment of DIN/DPIN. This eForm should be accompanied by all supporting documents including details of designated partners, partners etc. Once the eForm is processed and found complete, an LLP is registered and LLPIN is allocated. Also DINs/DPINs gets issued to the proposed designated partners/nominee of body corporate designated partners who do not have a valid DIN/DPIN. Maximum 2 designated partners are allowed for using this integrated form for allotment of DIN/DPIN while incorporating an LLP.
How to download form FiLLiP
To download form FiLLiP, visit www.mca.gov.in, hover over MCA service in menu. Under 'e-filing', click on 'LLP Forms Download'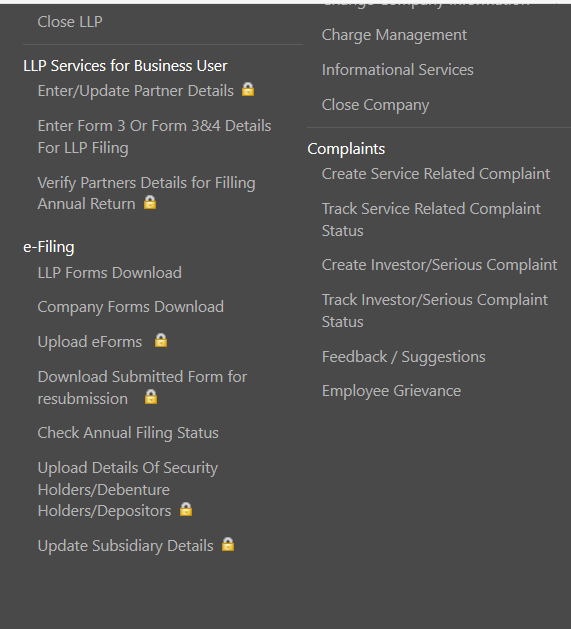 In next screen, you will see list of LLP forms. Click on 'FormFiLLiP[zip]' to download the form. Refer instruction kit provided with the form.
This form can be used to apply for DIN/DPIN of only two designated partners.
Registered office of LLP should be decided at the time of incorporation itself. Address proof of registered office should be attached to the form 'FiLLiP' .
Following documents should be attached to the form
Address proof of registered office

Electricity bill in the name of building owner, not older than 2 months.
Rental agreement between LLP and owner. Agreement should be on stamp paper of Rs 100/-
No objection certificate from owner to carry out business

Where Proposed LLP has one or more body corporate as partners or their nominees as designated partners.

Copy of resolution on the letterhead of such body corporate to become a partner in the proposed LLP.
Copy of resolution/authorization of such body corporate also on a letterhead mentioning the name and address of an individual nominated to act as nominee/designated partner on its behalf.

Sheet of subscribers including their consent. That is list of partners with their consent.
If the proposed name includes words which require approval of regulated authorities

approval of regulatory authority

If partner or designated partner is also a director or partner in any other company or LLP

Detail of LLP(s) and/ or company(s) in which partner/ designated partner is a director/ partner.

If the proposed name is based on a registered trademark or is subject matter of an application pending for registration under the Trade Marks Act

Approval of the owner of the trademark or the applicant of such application for registration of Trademark

In case proposed name consists of any 'Prohibited words under The Emblems And Names (Prevention of Improper Use) Act, 1950

Copy of approval from Central Government

If the proposed name contains any word which implies a collaboration and/or connection with a foreign country or place then it is mandatory to attach the copy of approval of such competent authority.
In case DIN / DPIN is to be allotted to designated partners through FiLLiP form, proof of identity and address needs to be attached here.

Copy of PAN or Passport
Proof of Identity : Voters Identity Card, Passport or Driving License
Residential proof: Bank Statement, Electricity Bill, Telephone Bill, or Mobile Bill.

In case the proposed name is identical with any existing company or existing LLP

Copy of Board resolution of the existing company or consent of existing LLP as a proof of no objection
Filing of addendum to FiLLiP
It refers to filing of additional form along with FiLLiP. Addendum is required to be filed with FiLLiP as a linked form in following scenarios:
In case the number of partners/ designated partners exceed the maximum number as allowed in the eForm i.e. 200.
In case details of all the designated partners or partners cannot be provided in this form due to the size of the attachments.
It can be downloaded in same way as form FiLLiP is downloaded.
Once the eForm is processed and found complete, an LLP is registered and LLPIN is allocated. Also DINs/DPINs gets issued to the proposed designated partners/nominee of body corporate designated partners who do not have a valid DIN/DPIN.
Step Six : Filing of LLP agreement to the registrar
Execution of LLP Agreement is mandatory as per Section 23 of the Act. LLP Agreement is required to be filed with the registrar in e-Form 3 within 30 days of incorporation of LLP.
Contents of LLP Agreement
Name of LLP
Name & address of Partners & Designated Partners.
Form of contribution & interest on contribution
Profit sharing ratio
Remuneration of Partners
Rights & Duties of Partners
Proposed Business
Rules for governing LLP